What are the best air fryer chicken thighs recipes? Look no further than this healthy, fuss-free dish below.
 It's 2021.
Most of us are locked away inside and, naturally, dieting and exercise become a whole lot harder. So, if you're trying to keep the pounds off while not compromising on any flavor, a good air fryer is your best friend.
After all, don't we all deserve some delicious chicken thighs? Why should healthy eaters be deprived of such an iconic dish? That's right, we shouldn't.
Thanks to the wonders of modern air frying, crispy chicken thighs are no longer the cheat dish they once were. Ah, modern technology, don't you just love it?
With that in mind, the Ultrean Air Fryer is amongst the best available. Cook perfect chicken thighs without the use of oil, allowing you to enjoy one of the most comforting dishes on the face of this planet.
To me, an air fryer is one of the best inventions going for a busy household. They cut the fat intake in our diets, they leave little mess on the stovetop and they're dishwasher friendly!
I absolutely love this dish too. It's an American classic with a healthy twist and, so easy to make, there's really not a downside to putting your Air Fryer to good use and crispy up some chicken skin.
For the kids, it'll be like a trip to KFC without all the guilt! What's better than that? Such a fun dish to serve up at dinner time and ideal for family eating.
So, how do I make crispy chicken things in an air fryer?
Check My other Recipes
If you like this recipe take some time to look at my Best Instant Pot Beef Stew Recipe
Best Crispy Chicken Thighs in Air Fryer: Cooking Time
Prep time: 5 mins
Cooking time: 20 minutes
Resting time: 5 minutes
Crispy Chicken Thighs: Recipe (2 portions)
4 bone-in skin-on chicken thighs (approx 2 pounds)
½ teaspoon Kosher salt
1 teaspoon smoked paprika
1 teaspoon garlic powder
½ teaspoon oregano
½ teaspoon onion powder
Optional
1 teaspoon chili powder
1 teaspoon cumin
1 teaspoon cayenne pepper
1 teaspoon dried thyme
Handful chopped chives/parsley
Crispy Air Fryer Chicken Thighs: Step-by-step guide
Pre-heat air fryer for 5 minutes or until 385F
Spray the inside with cooking spray to ensure maximum crispness
Place chicken thighs and spices in a zip-lock bag
Massage spices into things through the bag
Shake bag to ensure all of the meat is covered
Place chicken thighs into air fryer skin side down
Leave for 12 minutes
Flip chicken thighs over for another 10 minutes
Remove and let rest for 5 minutes
Nutrition
Calories: 239 kal | Protein: 32g | Fat 11 g
How long should I cook chicken thighs in an air fryer?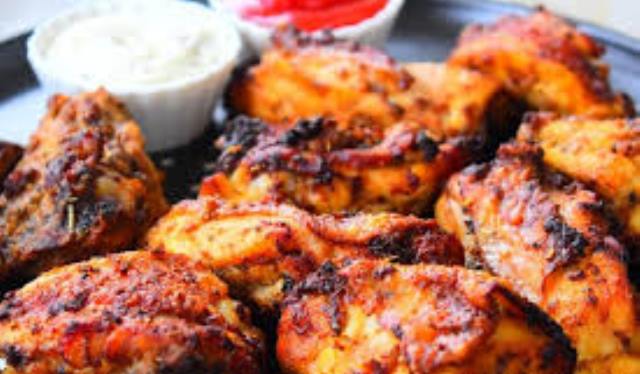 To get the desired result (which I assume is as crisp as crispy can be) leave your thighs skin-side down for 12 minutes before flipping over for the final 10.
Don't worry about things burning. Take that worry off your mind, it's so liberating!
During that time, you're caramelizing the skin and ensuring those spices are really woken up, making every mouthful a joy.
Can I get crispy skin by using an Air Fryer?
Absolutely, you can.
It's important to remember, however, to coat the inside of your fryer with low-fat cooking oil first. Without it, you won't be the desired effect of that crunch sitting on top of all that cooked meat.
Finger-licking good and, impressively, finger-licking healthy!
How long do I cook chicken thighs in an Air Fryer?
That really does depend on a number of things.
While the 22-minute guide we've provided is pretty standard, bigger thighs obviously take a little bit longer to cook. If you're using boneless thighs, they'll be even quicker, but aim for around 20 minutes either way.
Are Air Fryer crispy chicken thighs healthy?
Compared to the deep-fried chicken from Kentucky that stormed the culinary world, they definitely are.
Obviously, it depends on the cooking spray you use but a low-fat one shouldn't make too much of a difference.
This recipe has about 11 grams of fat in it, so there's no need to worry!
What spices can I use in Air Fryer crispy chicken thighs?
Seriously, there's so much choice here that it's hard to give you just one recipe.
The seasoning mix I've given you is great and really brings out the natural taste of the chicken but you can absolutely mix and match with whatever you want.
Add chili powder, more paprika, cayenne pepper for the heat. If you're looking for crispy jerk chicken thighs, throw in some dried thyme, brown sugar (come on, you deserve it), red pepper flakes, and cumin.
In the mood for some Asian flavors? Create an aromatic Chinese rub by whisking together some cloves, Sichuan pepper, garlic, and ginger.
In the mood for a little acidity? Lemon juice or a touch of vinegar will go a long way in that zip-lock bag.
The longer you leave the chicken in there, the tastier your dish will be.
Tip :
Use a sharp knife to score your chicken skin before mixing with spice and thank me later
What internal temperature do I need for chicken things cooked in an Air Fryer?
Usually, we're looking for an internal temperature of roughly
165 Fahrenheit = 73.9 Celsius.
We should never be too swayed about what the thermometer or meat probe is saying. Remember, you're the one eating these thighs, so it's really about whether or not you've got the crispy effect you want.
Use the internal temperature as a guide but cooking is about making use of our eyes, nose, and mouths too.
Air Fryer Chicken Thighs: Boneless and Skinless
Boneless thighs are great too but you must be careful not to overcook them. If you can't find bone-in thighs, follow the same process (with whatever spice mixture you want) but cook these for 4-5 minutes on either side.
If you have boneless AND skinless thighs (unless you're meal prepping for a strict training schedule, I really recommend you don't go for them) then simply cook for 3-4 minutes on either side, following the exact process set out earlier.
Air Fryer Crispy Chicken Thighs: Pro Tips
Pre-heat air fryer 5 minutes before cooking
Pad your chicken with paper towels before seasoning to draw out moisture and ensure they're crispy
Score chicken skin with a sharp knife to make sure all the seasoning penetrates the skin
Leave your chicken in the zip-lock bag as long as you can to deepen the flavor
Rip up some bread to place under your air fryer basket to catch the fat and help with the smoke
Use a good cooking spray utensil
Place air fryer on the stovetop with your extractor fan on
Leave to rest for 5 minutes
Garnish with chopped chives
Ok, so maybe not 'pro' tips but certainly steps you can take a humble batch of chicken thighs to a whole new culinary world.
A bit of love and attention there and your Ultrean Air Fryer will do the rest.
When it comes to resting, chicken generally doesn't need as long as red meats. Still, it's a good idea to let those lovely juices (which should be clear) spread back into the rest of the thigh.
What are the best sides for air fryer chicken thighs?
One of the beauties of this dish is the fact, a bit like with the seasoning mix, you can pretty much serve anything on the side.
Some good old-fashioned brown rice is my usual favorite but, if you're looking for chicken thighs while on the keto diet, some lovely broccoli charred up in your Ultrean Air Fryer would go along with these nicely.
If you're less worried about that kind of strict diet, other options include:
Air Fryer Mozzarella Sticks
Air Fryer French Fries
Air Fryer Buffalo Cauliflower Bites
Air Roasted Asparagus
The key to keeping your chicken thighs as low-fat as possible is investing in a good cooking spray. In fact, for any dish, you want to cook in your air fryer.
So, I'd really recommend the Continuous Spray Bottle. Filling one of these up with vegetable oil, avocado oil or even rapeseed oil will bring that brunch to anything you cook while keeping your dish as healthy as possible.
Their UV Protection will stop any sunlight damaging whatever oil you've got in there and, a lot like the Ultrean Air Fryer, they're so simple to clean!
Air Fryer Chicken Thighs: Final Thoughts
This is such a simple dish and the Ultrean Air Fryer's basket affords you plenty of space to cook some delightfully crunchy chicken.
A hassle-free, healthy way of eating, this air fryer should find pride of place in your kitchen pretty much from the minute arrives.
Don't forget to follow the 'pro tips' either. Treat your chicken with the love and respect it deserves by following those steps to help your air fryer help you!
One of the easiest ways to cook one of the most loved recipes around the world, what's not to like?