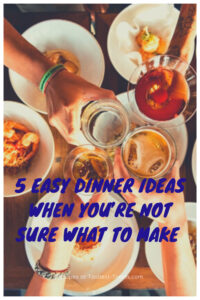 Looking for easy dinner ideas and recipes for weeknights? Check out our 2021 updated guide to find out all you need….
 I've been there. I think we all have.
Sometimes you've had such a hard day at work, you really are stuck for inspiration on what to make for dinner. Sometimes you just can't be bothered to think about cooking, but know ordering in is littered with sins. Sometimes, you just need a helping hand.
Well then, what you need are some staples.
Over the course of my cooking life, I've always relied on some staple dishes. You know, nice and easy recipes that aren't filled with lots of difficult to find ingredients, simple recipes that result in absolutely lovely dishes, the ultimate comfort food.
No matter where you are in the world, having some of these in your proverbial back pocket is a MUST. Sure, we're all used to cooking at home but what happens when you're away on business? Or spending time at a relative's? Or even on holiday (yes I know not everyone wants to cook on holiday)?
Staple dishes are an absolute lifesaver when it comes to cooking without thought. Get these recipes in your culinary arsenal and you'll never be faced with that boring old 'what should I make for dinner' thought again!
By using cheap and easily accessible ingredients, you're really going to take everything in your pantry and your cupboards to the next level, all while devoting less than forty-five minutes of your day to cooking. Seriously, these are great weapons to have in the battle against cooking boredom.
So, without further ado, let's have a look at five easy dinner ideas when you're not sure what to make.
Join The Party
Don't forget to join me on social media, it takes only on click.
1. Spaghetti Puttanesca (15 minute recipe)
(Serves 2)
Ah, spaghetti puttanesca.
The beauty of this dish is just how easy it is to make. With all of the ingredients likely to be in your fridge already, it's so simple to whip up a delish bowl of this comfort food, particularly for vegetarians.
Sure, some people are a little grossed out about the anchovies but this versatile dish from Southern Italy works even without them! Honestly, make it, you won't regret it.
2. Spicy Sausage Rice (15 minute recipe)
(Serves 2)
I love, love, love this dish.
Again, it's cooked within fifteen minutes and relies on taking everyday ingredients to another level by making some slight tweaks. Actually cutting the sausages out of their casing might sound like a lot of effort but, once you do it for the first time, I challenge you not to repeat!
You get so much bang for your buck by doing so as the sausage caramelizes with some lovely color while the onion, rice and stock create such a hearty comfort blanket. That little hit of freshness at the end with the tomatoes and spring onion take it to a new level.
3. Salmon Traybake (20 minute recipe)
(Serves 2)
Traybakes are a god send when you're not sure what to make. They require such little prep work and, as a one pot wonder would naturally be, don't leave lots of washing up at the end! Just stick it in the oven, sit back and wait for nature to do its work.
Salmon is great for this. Healthy, cheap and a nice alternative to meat, it's so good when paired with lots of vibrant, colorful vegetables. An absolute picture of a recipe, it really will cheer you up at the end of a long day.
4. Vegetarian Chilli (15 minute recipe)
(Serves 2)
Outside of just putting something in the oven, a vegetarian chilli is probably the easiest thing you can make. If we're honest, most people have the necessary spices somewhere in their pantries and lots little sprinklings of joy really take every day veggies up to a new level.
A deliciously healthy dish, it couldn't be easier to make!
5. Beef Hotpot (30 minute recipe)
(Serves 2)
Sometimes you've got an itch only a hotpot can scratch.
A warm, comforting, friendly bowl of delight, a beef hotpot is incredibly easy to make and can serve up to six people. With it being fine to freeze, you could be set for the week in terms of lunches too, all because you made the amazing decision to make yourself a hotpot.
Cheap cuts of beef need a little help at the start but, my goodness, what an end result you'll have in your bowl.
Chef's Recommend - Spicy Sausage Rice
While all the dishes above are absolutely great for their own reasons, the spicy sausage rice is the standout for me. A Gordon Ramsay recipe, it's so easy to make but packed full of such flavor, you'll be wanting to make another bowl as soon as humanly possible.
Seriously, the thought of those fresh tomatoes lifting up that lovely cooked rice is making me salivate already!
As you can probably tell, I can't urge you enough to MAKE THIS! It's so, so, so good.
The Healthy Easy Dinner Idea Choice - Salmon Traybake
The salmon traybake isn't just healthy. It's also absolutely delicious. So simple to make it almost feels like you're cheating, this is a great option to rely on when you're busy but don't want to ruin that strict diet you've been on.
The Easy Dinner Ideas Easy Choice - Vegetarian Chilli
The easiest dish of them all is the vegetarian chilli but, hey, that doesn't mean it's a bad one. Indeed, the spices wake up when cooked and give you such a delicious fiery sauce coated across those hearty vegetables.
Easy Dinner Ideas Final Thoughts
It can be difficult to decide what you want to make every single night, particularly when an awful lot of places aren't open at the moment. Still, by arming yourself with the staples above, you can fiddle with these recipes however you want.
The most important thing is to focus on the methods. Nail them down and you won't be struggling to think of ideas again.